St. Aidan's Church & Hall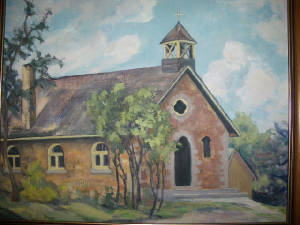 The hall bottom right is where my career began with dances
St. Aidan's Church Summer Teen Dance 1963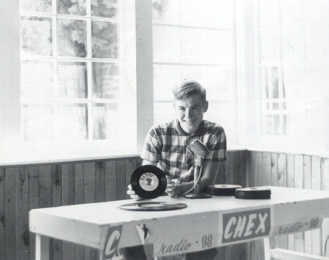 Photo by Norman Durnan
Paul looks back on a career that spanned 40 years including Program Director of the team that rated hightest in CFTR History. You saw him host CITY TV's BOOGIE DANCE SHOW & host with Vic Rueter TSN's 1996 coverage of the Cdn Mixed Doubles Curling Championships, M.C. of Grey Cup Dances, The Bee Gees at O'Keefe, Gilbert O'Sullivan at Massey Hall, Beach Boys at Maple Leaf Gardens & shows with Mac Davis, Ronnie Hawkins, The Band, Roy Orbison, Guess Who, Neil Sedaka & Cliff Richard and many more. (see Days Gone By sections)
Paul is a member of the Canadian Association of Broadcasters Quarter Century Club; Honourary Member of Five Kinsmen Clubs; served as Media Relations Chairperson for the Canadian Breast Cancer Society; honoured as Advisor to the Junior Achievement Company that won the highest Sales Award in Canada; served as Rotary TV Auction Host and Producer; served on the United Way Board of Directors Allocations Committee; and relaxes as Maintenance Chairman on the London Canoe Club's Board of Directors.
Photo by Norman Durnan 1963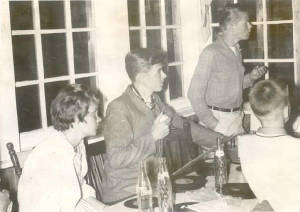 Paul's birth place is Peterborough Canada. At age two the Godfrey's moved to a tourist town Young's Point north of Peterborough.This is also the birthplace of his love affair with wind, water & canoes. His career began as a summer replacement at CHEX. The trek would take him to CKLY Lindsay, CKWS Kingston, CJCH Halifax, CFCO Chatham, CKJD Sarnia, CFBC St. John, CHAM Hamilton and CFTR 'The Super 680' & CITY TV. Toronto was the turning point in Paul's career with marriage and family the Godfrey's sought a more conducive environment to raise their children. They lived in Burlington while Paul worked at CJJD Hamilton. Then they moved on to K-W to CHYM and then Sarnia as Operations Manager for 14 years at CHOK. Son Levon is now a sports host in Toronto at Rogers SPORTSNET and daughter Shannon is enjoying her her career as a teacher in the London area. Paul and Julia now reside in London Canada where Paul retired and is happy to have time for his guitars and music hobbies.
Paul had worked as a part time operator in 1962 at CHEX Radio 980 in Peterborough. (note: he took his middle name 'Paul' while working at CKWS in Kingston Ontario after finding out they already had 2 Bob's on-air) Summertime 1963 would be his first time on-air with his own show: The Bob Godfrey Show from 6pm to station sign-off at 1am
Paul at CHEX 980 Summertime 1963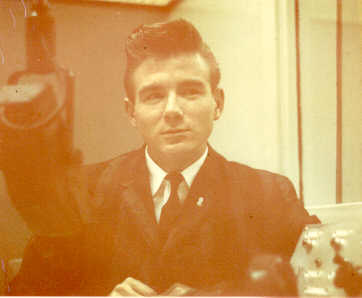 photo by Norman Durnan
1964 Honda "Dream" 15 minutes before Accident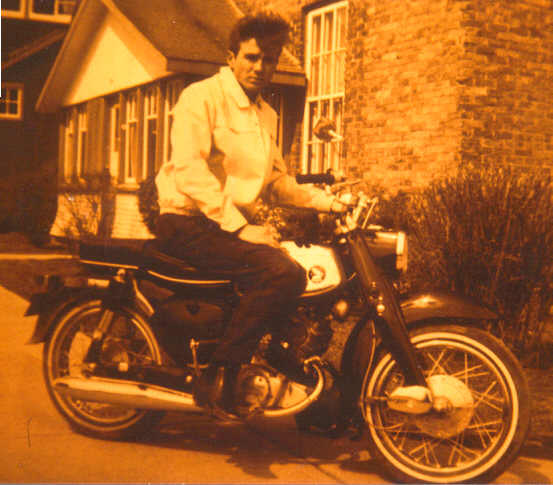 Peterborough Examiner April 20, 1965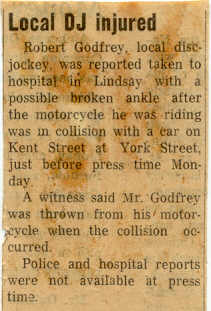 Peterborough Examiner April 20, 1965
Paul rebuilt this 1966 Honda Dream in 1982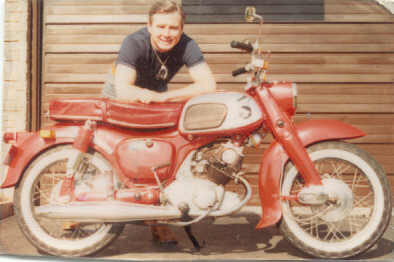 Best Buddy's on Paul's 23rd Birthday at Young's Pt
Art Foucher, Paul Bonner (now gone) and Paul